Posted on
Mon, Jan 9, 2012 : 5 a.m.
Bridge column, January 9: Maneuvering around the losers in hand
By Phillip Alder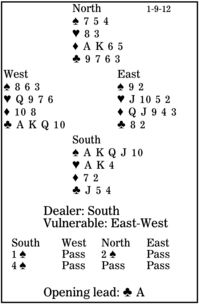 Bernhard Langer said: "It's not life or death, it's a game, and at the end of the game there is going to be a winner and a loser."
He was talking about golf, but he could have been discussing any competitive game.
In bridge, you can be a winner if you know how to eliminate losers when in a trump contract. We will look at the common methods this week.
Today's deal highlights the most straightforward, although declarer has to be doubly careful.
South is in four spades. West leads the club ace, East dropping the eight as the start of a high-low (echo) with a doubleton. West continues with the club king, the club queen, and the club 10, East discarding two hearts. After ruffing the fourth club, how should declarer continue?
North should be happy to raise to two spades. Yes, his trumps are poor, but he has an ace-king combination and a ruffing value in his doubleton. South, now knowing about the fit, adds one point for his doubleton, giving him 19 support points, sufficient to jump to game, despite his balanced hand.

Declarer must take the rest of the tricks, but he has a heart loser in his hand.

If he immediately draws all of the trumps, he will lose the last trick to West's heart queen. But as dummy is short in hearts, South can try to ruff his heart four on the board.

Since declarer has only one loser to ruff, he needs just one trump in the dummy. He draws two rounds of spades, cashes dummy's top diamonds, and plays three rounds of hearts, ruffing the last in the dummy. When East cannot overruff, South claims.

** ** **

COPYRIGHT 2012, UNITED FEATURE SYNDICATE

DISTRIBUTED BY UNIVERSAL UCLICK FOR UFS