Posted on
Sat, Jul 27, 2013 : 5 a.m.
Bridge column, July 27: Keep "trade" in mind to find good plays
By Philip Alder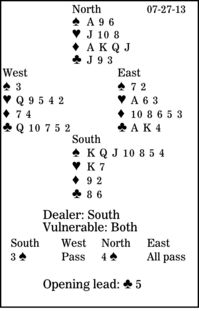 C.J. Cherryh, a science fiction and fantasy author who has an asteroid named after her, said, "Trade isn't about goods. Trade is about information. Goods sit in the warehouse until information moves them."
For the last two weeks, we have been using the acronym "trade" to help find the right plays. We track the tricks, read the lead, audition the auction, deduce the danger, and eye the entries.
Here is one more example. How should South play in four spades after West guesses well to lead a fourth-highest club five?
When North raises three spades to four, he knows that there could be four top losers, but it might make or be a good sacrifice against a making four-heart contract for East-West.

This deal is East's problem. He should realize that if the defenders are going to win four tricks, they will be either three clubs (West started with queen-fourth) and the heart ace, or two clubs (West started with five clubs) and two hearts.

So, East takes the first trick with his club king and cashes the club ace, noting that West plays the two, indicating that West started with five clubs. Now East must shift to a low heart. If West has the king, cashing the ace first works fine; but not here. The question is: Will South guess correctly?

Finally, if West wins the third trick with the heart queen, how does he know to return a heart, not give East a club ruff?

Because if East had begun with the ace-king-doubleton of clubs, he would have won the first trick with the ace, then cashed the king.

** ** **

COPYRIGHT: 2013, UNITED FEATURE SYNDICATE
DISTRIBUTED BY UNIVERSAL UCLICK FOR UFS