Posted on
Tue, Jul 30, 2013 : 5 a.m.
Bridge column, July 30: How to defend may be unclear
By Philip Alder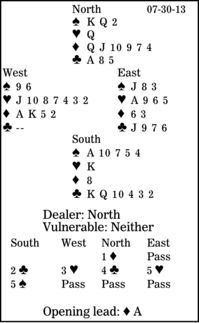 Carrie Underwood, whose singing career started when she won "American Idol" in 2005, said, "If something can be said to make an awkward moment even worse, I'm going to say it."
Some bridge bids are intended primarily to make the next player's position awkward. And in this deal there were several uncomfortable moments. How would you critique the auction? What should happen in five spades after West leads the diamond ace?
After North's one-diamond opening, South, with a game-going hand, planned to bid first clubs, then spades, then spades again to show his 5-6. Next, West made a three-heart weak jump overcall when four hearts would have been better. If East had a heart fit, they would have taken a lot of tricks; if East was very short in hearts, West was already in trouble.
It was sensible for North to rebid four clubs; South rated to have at least five. And the singleton heart looked good.

Now East made a really aggressive bid with five hearts. However, South continued with five spades, strongly suggesting at least 5-6 in the black suits. And that silenced everyone.

West led the diamond ace, but then did not know what to do. If South had the last diamond, West could continue with the diamond two, a suit-preference signal for clubs. But with this layout, West had to shift to the heart two (again, suit preference) to get the key club ruff.

Since East's five-heart jump strongly suggested a shapely hand with a singleton or void, West understandably led the diamond two at trick two, so the contract made with an overtrick. Tough!

** ** **

COPYRIGHT: 2013, UNITED FEATURE SYNDICATE
DISTRIBUTED BY UNIVERSAL UCLICK FOR UFS