Posted on
Fri, Jun 28, 2013 : 5 a.m.
Bridge column, June 28: You have points but no good bid
By Philip Adler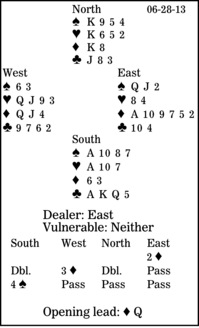 E.J. Smith, the future captain of the Titanic, certainly tempted fate by saying, "When anyone asks me how I can best describe my experience in nearly 40 years at sea, I merely say, uneventful. I never saw a wreck ... nor was I ever in any predicament that threatened to end in disaster of any sort."
When you are in a predicament at the bridge table, consider the various sensible options and decide between them.
Look at the North hand in today's diagram. East opens two diamonds, weak; South makes a takeout double; and West raises to three diamonds. What should North do?
He clearly has enough strength to act, but to force to game with a four-diamond cue-bid would be overstating his hand, especially since the diamond king is probably worthless. And he would prefer not to guess which major to bid.

The answer is to double. It is called responsive and says, "I have enough strength to act but no suitable bid available." South, with such a strong hand, should jump to four spades.

West leads the diamond queen. The defenders take two tricks in the suit, then play a club. How should South continue?

In danger of losing one spade, one heart and two diamonds, he should assume a favorable layout. Here, he wins the fourth trick, draws two rounds of trumps, cashes the two top hearts and plays on clubs. Whether East ruffs in or discards and is then endplayed with his trump winner, he must concede a ruff-and-sluff, on which South's last heart disappears.

** ** **

COPYRIGHT: 2013, UNITED FEATURE SYNDICATE
DISTRIBUTED BY UNIVERSAL UCLICK FOR UFS