Posted on
Wed, Mar 14, 2012 : 5 a.m.
Bridge column, March 14: A variation on a crocodilia theme
By Phillip Alder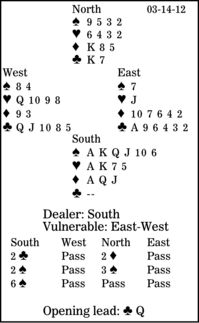 Eric Schmidt, executive chairman of Google, said, "When the Internet publicity began, I remember being struck by how much the world was not the way we thought it was, that there was infinite variation in how people viewed the world."
"Infinite" is surely an overbid. There are many themes in bridge, but not an infinite number. This deal is a variation on yesterday's. Now South's chances in six spades are excellent. What should South do after West leads the club queen, marking East with the ace?
When North promised some points with his raise to three spades, South hoped his partner's values would be useful.
Declarer sees that the contract is laydown if the hearts split 3-2, which the mathematicians say will happen just a little more than two times in three. But South should consider how to make his contract even when hearts are 4-1.
Yesterday, when dummy did not have the club king, declarer drew trumps, eliminated the minors, and led a low heart from his hand. To beat the contract, West had to play his queen -- a Crocodile Coup -- to swallow his partner's jack.

Now that dummy has the club king, there is a much better plan.

South ruffs at trick one, draws trumps, and cashes his top hearts. When they are 4-1, declarer takes his diamond tricks, ending on the board. Then he leads the club king, discarding a heart loser. East is endplayed, forced to concede a ruff-and-sluff, on which South's last heart evaporates.

** ** **

COPYRIGHT: 2012, UNITED FEATURE SYNDICATE

DISTRIBUTED BY UNIVERSAL UCLICK FOR UFS