Posted on
Fri, Mar 15, 2013 : 5 a.m.
Bridge column, March 15: Use an opponent for your entry
By Philip Adler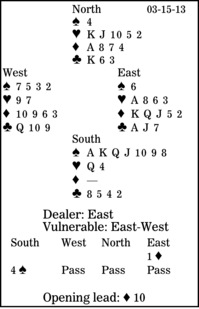 William Shakespeare wrote, "All the world's a stage, And all the men and women merely players: They have their exits and their entrances."
In a bridge contract, having no entry often results in an exit with a minus score. And sometimes you need to use a defender for an entrance. How does that apply in this deal? South is in four spades, and West leads the diamond 10.
When East opened one diamond, South just closed his eyes and blasted into four spades, hoping that if his partner had a weak hand, the penalty conceded would be less than his opponents could have obtained in their best contract.
If West had been psychic, he would have led either the club 10 (immediately giving the defenders three clubs and one heart) or the heart nine (East wins with his ace and returns the suit to kill the dummy). But since East had opened one diamond, selecting that suit was normal.

The original South won trick one with dummy's ace and discarded a heart from his hand. Then he called for a low heart. East went in with the ace and led the diamond king. Now declarer had to go down two. (Yes, East might have returned a heart, which would have been right if West had begun with a singleton heart. But East thought that his partner would have led a singleton initially.)

South should have left the diamond ace on the board and ruffed the first trick in his hand. Then he draws trumps and plays on hearts. East may duck the first round and take the second, but then he must put declarer into the dummy. The contract makes with an overtrick instead of going down two.

** ** **

COPYRIGHT: 2013, UNITED FEATURE SYNDICATE
DISTRIBUTED BY UNIVERSAL UCLICK FOR UFS