Posted on
Fri, Mar 2, 2012 : 5 a.m.
Bridge column, March 2: Put your tricks into two baskets
By Phillip Alder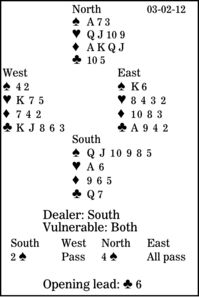 Bill Cosby said, "As I have discovered by examining my past, I started out as a child. Coincidentally, so did my brother. My mother did not put all her eggs in one basket, so to speak: She gave me a younger brother named Russell, who taught me what was meant by 'survival of the fittest.'"
At the bridge table, the fittest do not put all of their tricks in one basket -- suit -- if there is any chance that the basket has a hole and the eggs -- tricks -- will fall out and break.
In this deal, how should East plan the defense against four spades? West leads a fourth-highest club six.
South opened with a textbook weak two-bid, showing a respectable six-card suit and 6 to 10 high-card points. North sensibly jumped to game. True, the defenders might have been able to take the first four tricks, but four spades could have been laydown.
East should ask himself where his side will get four tricks. He can see one spade and one club. If West has the club king, that is a third. But where is number four? Not in diamonds, so it must be in hearts.

If West has the heart ace, a club return at trick two is fine -- and so is a heart shift. But if West has the heart king, East must switch to that suit immediately, before declarer draws trumps and gets his heart loser away on dummy's diamonds.v At trick two, East should shift to his heart eight, the high card denying an honor in the suit. Then the contract must fail. If East leads a club at trick two, South can get home. Don't always "return your partner's lead," especially in a suit contract.

** ** **

COPYRIGHT: 2012, UNITED FEATURE SYNDICATE

DISTRIBUTED BY UNIVERSAL UCLICK FOR UFS