Posted on
Wed, Mar 21, 2012 : 5 a.m.
Bridge column, March 21: Setting up a suit: The battle continues
By Phillip Alder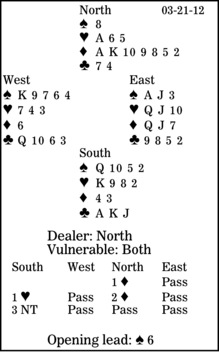 Football coach Vince Lombardi said, "I firmly believe that any man's finest hour, the greatest fulfillment of all that he holds dear, is that moment when he has worked his heart out in a good cause and lies exhausted on the field of battle -- victorious."
One bridge deal should not be that exhausting, but many, especially in no-trump, are battles for suit establishment -- as we saw yesterday and will see today.
How should the play go in three no-trump after West leads the spade six?
There are five scenarios. First, East wins with his spade ace and returns the spade jack, covered by the queen and king. South takes the third spade and plays three rounds of diamonds, losing the last of those but taking the rest for an overtrick.
Second, West ducks at trick two, giving South the trick he is due and retaining communication with his partner. Then, when East gets in with his diamond trick, a third spade gives West three tricks in that suit to defeat the contract.

Third, South does not cover the spade jack at trick two. This saves the contract whenever it can be made.

Fourth, East plays his spade jack at trick one. (Since East can anticipate gaining the lead in diamonds, this is not far-fetched, trying to make South burn up his one spade stopper immediately.) If South does win the trick, he will fail. But, fifth, if he works out to duck, he will get home.

What a battlefield of possibilities!

** ** **

COPYRIGHT: 2012, UNITED FEATURE SYNDICATE

DISTRIBUTED BY UNIVERSAL UCLICK FOR UFS