Posted on
Thu, Mar 22, 2012 : 5 a.m.
Bridge column, March 22: Try not to get in your own way
By Phillip Alder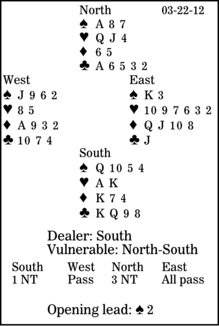 Tom Watson said, "Confidence in golf means being able to concentrate on the problem at hand with no outside interference."
That applies to many sports and games, including bridge. In this deal, concentrate on what interferes with collecting nine tricks in three no-trump after West leads the spade two.
Declarer apparently starts with nine winners: one spade, three hearts and five clubs. However, some players at trick one would play low from the dummy almost without thinking. West "must" have led from the spade king, so why not get an overtrick or two?
Here, though, after East wins with his king, he must not suffer from the "always return partner's suit in no-trump" interference. From the two-lead, West and South are known to have started with four spades each, and it is rarely right for the defense to attack declarer's long suit.
If East shifts to the diamond queen, the defenders take the first five tricks.

However, declarer should be happy with his nine tricks, assuming he sees how to get around the interference in the club suit. With the 3-1 split, if South plays off his top clubs, he will have to take the fourth round in his hand with the eight or nine. To reach the fifth club, declarer will need a dummy entry -- and that has just evaporated by taking the first trick with the spade ace.

What is the solution?

Right -- after winning with dummy's spade ace, play off South's top hearts. Then, after taking the three top clubs ending on the board, the blocking club nine can be discarded on the heart queen.

** ** **

COPYRIGHT: 2012, UNITED FEATURE SYNDICATE

DISTRIBUTED BY UNIVERSAL UCLICK FOR UFS