Posted on
Sat, Mar 31, 2012 : 5 a.m.
Bridge column, March 31: Every decade, one sees the answer
By Phillip Alder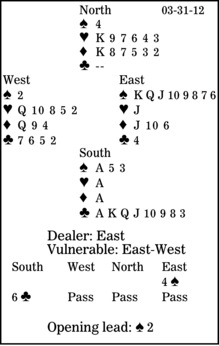 Once every 10 years or so, I bring this deal out of mothballs. It causes much consternation, with the right play not being spotted until a mulligan (a do-over). Each time, though, one student has quickly seen the right play and made the contract. This year, it was Peggy Wolcott of Vero Beach, Fla.
How did she play in six clubs after West led the spade two to her ace?
When East opened four spades, usually showing a good eight-card suit with offensive, not defensive, values, South had a problem. But she knew that in spades either the dummy would be short or West wouldn't have one to lead. This made six clubs a logical gamble. It was all North's fault: A decent partner would have had a trump or two!
West's opening lead confirmed the 8-1 spade break. (If West had begun with two spades, he would have led the higher one.) But how could declarer avoid two spade losers? How could she get into the dummy to cash those red-suit kings?
Wolcott saw the only way. She cashed two rounds of trumps, learning that West had begun with four. Next she took a third top trump and both red-suit aces. Then she led the club three. West took the trick with his seven and had to lead a red card, giving declarer access to the dummy.

As you probably spotted, though, West could have been the genius, dropping his five, six and seven of clubs under South's ace, king and queen. Then he would have underplayed declarer's club three with his two, leaving South to lose two spade tricks at the end. However, no one has ever found that defense.

** ** **

COPYRIGHT: 2012, UNITED FEATURE SYNDICATE

DISTRIBUTED BY UNIVERSAL UCLICK FOR UFS