Posted on
Tue, May 15, 2012 : 5 a.m.
Bridge column, May 15: With one chance, go for it
By Phillip Alder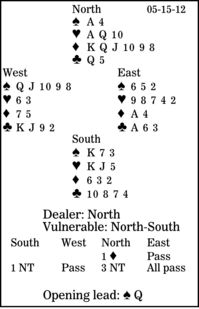 Winston Churchill said, "A lie gets halfway around the world before the truth has a chance to get its pants on."
Sometimes at the bridge table there is only one chance to make or break a contract -- no lie. Then hitch up your pants or skirt and go for it.
In this deal, East is defending against three no-trump. West leads the spade queen. South wins with dummy's ace and plays on diamonds. When in with his ace, what should East do next?
North's one-diamond opening bid is the textbook choice, but it would not be silly to open two no-trump. The advantage of two no-trump comes when you think about North's rebid, especially over a one-heart response by partner. Nothing really fits the bill, the hand being too strong for three diamonds.
After one diamond and one no-trump, North's three-no-trump rebid is automatic, going for the nine-trick game. It is highly unlikely that five diamonds will make and three no-trump fail.

East should realize that declarer has at least nine tricks ready to cash: two spades, two hearts (the finesse is winning if declarer needs it) and five diamonds. It is time to shift to the club three, the low card guaranteeing at least one honor in the suit and saying that he is trying to win tricks in this suit.

West should win with his king and return the club two, the lowest of three remaining cards in the suit. East takes his ace and leads his last club through South's 10-8 into the jaws of West's J-9. The defenders take one diamond and four clubs.

** ** **

COPYRIGHT: 2012, UNITED FEATURE SYNDICATE

DISTRIBUTED BY UNIVERSAL UCLICK FOR UFS