Posted on
Tue, May 21, 2013 : 5 a.m.
Bridge column, May 21: Showing two suits below three no-trump
By Philip Adler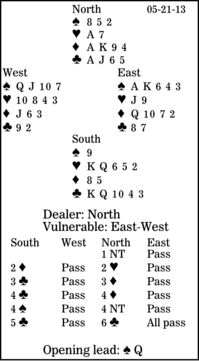 We are looking at transfer bids into the majors. Why use them?
There are two main reasons. First, you get the stronger hand to be the declarer when the final contract is in responder's major. And if the opening bid is one no-trump, the responder can describe a two-suiter below three no-trump.
Look at the South hand. Playing natural methods, South would respond three hearts, showing five hearts and at least game-going values. But when North rebids three no-trump, announcing only two hearts, should South pass or rebid four clubs? He does not know.
Here, passing would work badly, because the defenders take five spade tricks. But when South bids two diamonds, transfer, and rebids three clubs, natural and game-forcing, what does North do?
If he had three hearts, he would indicate the fit with a three-heart bid. With two hearts and stoppers in spades and diamonds, he would bid three no-trump. Here, though, he continues with three diamonds, strongly suggesting that he is worried about spades. And if North is worried, South is very worried! He bids four clubs, North control-bids (cue-bids) four diamonds, South control-bids four spades (yes, aggressive, but the hands are fitting well), North uses Blackwood, and they reach six clubs.

This contract makes easily, South taking four hearts, two diamonds, five clubs and one heart ruff in the dummy.

** ** **

COPYRIGHT: 2013, UNITED FEATURE SYNDICATE
DISTRIBUTED BY UNIVERSAL UCLICK FOR UFS