Posted on
Tue, Nov 1, 2011 : 5 a.m.
Bridge column, November 1: The devilish play to a contract
By Phillip Alder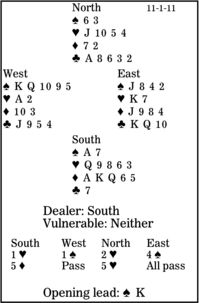 John Abernethy, an English surgeon who died in 1831, said, "Private patients, if they do not like me, can go elsewhere; but the poor devils in the hospital I am bound to take care of."
The winning line of play in today's deal is called the devil's coup because it is diabolic that declarer can avoid losing three tricks. How should South play in five hearts after West leads the spade king?
In the bidding, a modern North would have responded three hearts, a pre-emptive bid with four-card support. (With game-invitational values, he would have cue-bid two spades.) East applied maximum pressure by jumping to four spades. A scientist would have cue-bid three hearts to invite game, especially since the auction suggested that West had made a weak overcall.
South could have doubled four spades for down one (or two, if he gets a club ruff), but maybe that contract was making and perhaps five of a red suit was laydown.

There are three top losers: one spade and two hearts. South must eliminate that spade loser before touching trumps. He takes the first trick and plays diamonds from the top. When declarer leads the queen, what does West do?

If he ruffs high or discards, dummy's spade is pitched; so West must ruff low. South overruffs in the dummy, cashes the club ace, ruffs a club, ruffs a diamond, ruffs a club, and leads his last diamond, throwing dummy's remaining spade. What can the defenders do?

Nothing! If West ruffs, it costs his ace. And if West lets East ruff low, a moment later the heart ace and king crash together.

Copyright 2011, Dist. by Universal Uclick for UFS