Posted on
Fri, Nov 11, 2011 : 5 a.m.
Bridge column, November 11: The entry is there, if you can see it
By Phillip Alder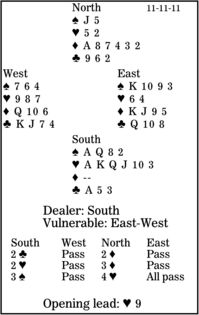 Dr. Laura Schlessinger, a radio talk show host, said, "Don't spend time beating on a wall, hoping to transform it into a door."
At the bridge table, don't spend time playing on a "wall suit," hoping to transform it into a door -- an entry to the other hand. Play on a suit that can create an entry, as in this deal.
How should South play in four hearts after West irritatingly leads a trump?
In some parts of the country, in response to a two-club opening bid, a two-heart response shows a bust: 0-3 points without even a king. I dislike this idea. In this deal, mentally change North's diamond ace to the diamond queen. After two clubs - two hearts - three hearts, what is North supposed to do? Just raise to four hearts without showing his six-card suit?
In four hearts, South can see 10 tricks: two spades, six hearts, one diamond and one club. But to collect the diamond ace, he must get into the dummy. How?

If declarer plays a low spade to dummy's jack, East will win with his king and return his second trump. If South plays the ace and another spade, the same thing will happen. Instead, declarer must lead the spade queen from his hand. If East takes his king, dummy's jack is an entry. If East ducks, South cashes his spade ace, ruffs a spade in the dummy, and discards a loser on the diamond ace.

Note that dummy's key card was a jack, which, if it were numbered, not lettered, would be an 11 -- apropos for 11-11-11.

Copyright 2011 UFS, Dist. by Universal Uclick for UFS