Posted on
Sat, Nov 12, 2011 : 5 a.m.
Bridge column, November 12: Set up the contract with dummy's suit
By Phillip Alder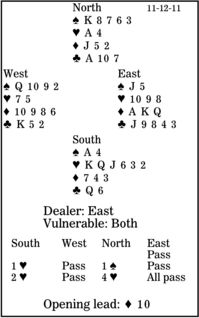 Art Buchwald, a Pulitzer Prize-winning columnist and humorist who died in 2007, said, "If you attack the establishment long enough and hard enough, they will make you a member of it."
At the bridge table, if you attack a suit long enough and hard enough, you will often establish an extra winner in it.
In this deal, South is in four hearts. West leads a diamond. East takes three tricks in the suit before shifting to a trump. How should South continue? As a side issue, what should South do if East leads a low club at trick four?
South's two-heart rebid showed 12 to 14 points and guaranteed at least a six-card suit. North bid what he hoped his partner could make.
When East leads a trump at trick four, the best play is to establish dummy's spade suit. (Yes, declarer can squeeze West in the black suits. The curious may work it out.) South should win with his heart king, cash his spade ace, play a spade to dummy's king, ruff a spade in his hand, cross back to dummy with a trump, ruff another spade and draw trumps. Then declarer returns to dummy with a club and discards his remaining club on the established spade eight.

If East shifts to a club at trick four, South seems to have a guess -- but not if he remembers the bidding. East passed as dealer. If he has the club king, he started with at least 12 points and would probably have opened the bidding. Declarer should play his low club, hoping East has the jack. Finally, note that this would also be the right play if South had been the dealer.

Copyright 2011 UFS, Dist. by Universal Uclick for UFS