Posted on
Mon, Nov 14, 2011 : 5 a.m.
Bridge column, November 14: Make the maximum from your honors
By Phillip Alder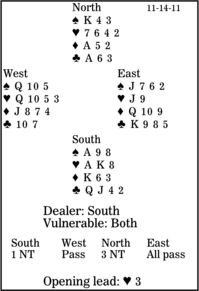 Jean Sibelius, a Finnish composer who died in 1957, said: "Pay no attention to what the critics say. Remember, a statue has never been set up in honor of a critic."
At the bridge table, it can be critical how you play your honor cards -- as in this deal. What would be your line in three no-trump after West leads the heart three? Do you agree with the bidding?
To take those questions in reverse order, the auction looks perfect. With 4-3-3-3 distribution and very weak hearts, three no-trump must be the percentage response. It is unlikely that four hearts will make and three no-trump will fail.
When in no-trump, count your top tricks before playing from the dummy at trick one. Here, you have seven: two spades, two hearts, two diamonds and one club. The other two winners will obviously come from clubs.
Perhaps there is a natural reaction to run the club queen at trick two, taking a finesse. However, that play cannot gain and here costs the contract. East wins with his king and returns any card. When the clubs break badly, there are only eight winners.

It is correct to lead toward the hand with the two honors. Play a club to dummy's ace, then return a club through East, who will surely play low. When your queen wins, go back to the dummy with a spade or diamond and lead another club through East to get those three club tricks.

If, in a different layout, West takes your queen with the king, you will have to hope the clubs are splitting 3-3. But that is a worst-case scenario.

** ** **

COPYRIGHT 2011, UNITED FEATURE SYNDICATE

DISTRIBUTED BY UNIVERSAL UCLICK FOR UFS