Posted on
Tue, Nov 15, 2011 : 5 a.m.
Bridge column, November 15: He wants to avoid the unwanted
By Phillip Alder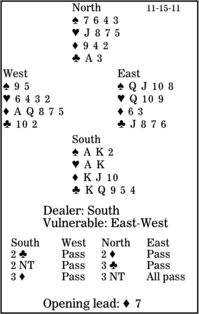 Confucius, who died about 479 B.C., said: "He who learns but does not think is lost. He who thinks but does not learn is in great danger."
Bridge players learn that they must think about the dangers to their contracts. In this example, how should South plan the play in three no-trump? West leads a fourth-highest diamond seven: two, six, jack. (East should give count whenever he cannot play a card higher than the eight.)
Maybe one day someone will figure out the percentage action with that North hand over two no-trump. Should he just raise to three no-trump, or is it right to look for a 4-4 major-suit fit?
The drawback of using Stayman arises when no fit is found: The defenders gain free information about declarer's hand. But if a 4-4 fit is uncovered, that might be a better contract than three no-trump.
My guess is that with honor-doubleton, North should raise to three no-trump. With two low clubs and ace-third of diamonds, he should try Stayman.

South has eight top tricks: two spades, two hearts, one diamond (given the opening lead) and three clubs. The ninth winner will come from clubs, and while establishing it, declarer can afford to lose one club trick. What is the danger?

The danger is that East gains the lead to push a diamond through South's king into the jaws of West's ace-queen. What is the solution?

Play a club to dummy's ace and return the club three, covering East's card as cheaply as possible. West is welcome to the trick with his 10 because he cannot hurt declarer.

** ** **

COPYRIGHT 2011, UNITED FEATURE SYNDICATE

DISTRIBUTED BY UNIVERSAL UCLICK FOR UFS