Posted on
Wed, Nov 16, 2011 : 5 a.m.
Bridge column, November 16: Jump strongly to a grand slam
By Phillip Alder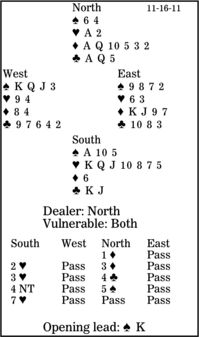 One of our favorite public speakers, A.N. Other, said, "Too many people confine their exercise to jumping to conclusions, running up bills, stretching the truth, bending over backward, lying down on the job, sidestepping responsibility and pushing their luck."
Bridge players should not jump to conclusions, but sometimes a jump in the bidding will keep the auction from falling over backward.
Back to the bidding in a moment. How should South play in seven hearts after West leads the spade king to declarer's ace?
The strong jump shift has fallen out of favor, but I think it is much more useful than its weak cousin. The responder announces 13 to 16 high-card points with either an excellent six-card or longer suit, or a two-suiter: his own suit and the opener's.
Here, South rebids three hearts to show the one-suiter. North control-bids (cue-bids) four clubs to indicate slam interest. South uses Blackwood and jumps to seven hearts opposite three aces.

South, with only 12 top tricks, must establish dummy's diamond suit. But he has to be careful with dummy's entries. This is the right line of play: Cash the heart king, play a diamond to dummy's ace, ruff a diamond, lead a heart to dummy's ace, ruff a diamond high, draw trumps, overtake the club jack with dummy's queen, ruff another diamond, overtake the club king with dummy's ace, and discard South's spade losers on dummy's two high diamonds.

** ** **

COPYRIGHT 2011, UNITED FEATURE SYNDICATE

DISTRIBUTED BY UNIVERSAL UCLICK FOR UFS