Posted on
Fri, Nov 18, 2011 : 5 a.m.
Bridge column, November 18: Declarer's theme is for the defense
By Phillip Alder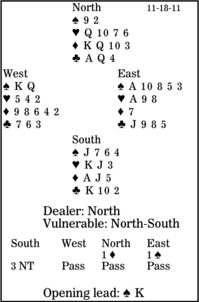 Director Stanley Kubrick said: "A film is -- or should be -- more like music than like fiction. It should be a progression of moods and feelings. The theme, what's behind the emotion, the meaning, all that comes later."
A bridge deal usually has a theme, and the quicker it is spotted by one side or the other, the more likely that partnership will be successful.
The theme of this deal is typically employed by the declarer, much less so by the defenders. How should East-West card to defeat three no-trump after West leads the spade king?
South, because his spade holding was so weak, did not like to respond three no-trump. However, he had no better choice with a balanced 13-point hand, a spade stopper and fewer than four hearts. (He did not make a negative double.)
There are key plays at the first two tricks. Initially, East wishes to encourage his partner to continue spades, but he has to be careful with his spots: He must signal with the five because he cannot afford a higher card. (This is why many pairs use upside-down signals, when a low card encourages and a high card discourages. When you have a weak suit, you can usually "waste" a high card; but when you have strength, you sometimes cannot afford to signal with a high card.)

At trick two, West continues with the spade queen. Now East must overtake with his ace. Then he leads the spade 10 to drive out South's jack. Declarer has only eight tricks, and when he plays a heart, East grabs his ace and cashes two spades for down one.

COPYRIGHT 2011, UNITED FEATURE SYNDICATE

DISTRIBUTED BY UNIVERSAL UCLICK FOR UFS