Posted on
Sat, Nov 19, 2011 : 5 a.m.
Bridge column, November 19: Tuning a contract with finesse
By Phillip Alder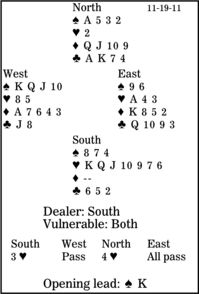 Graeme Le Saux, a former English national soccer player, said: "Digital (photography) has obviously changed things a lot, but not all for the better as far as I'm concerned. Of course it's much more convenient and you're getting instant results, but to me it just lacks the finesse of a roll of film, and it has a slightly superimposed feel."
There is something appealing about finesse -- doing things without brute force. However, at the bridge table, occasionally we must bully our way to a contract with a finesse or two -- as in this deal.
South is in four hearts. West leads the spade king. What should declarer do?
North's raise to four hearts was a tad optimistic, pre-emptive openings not being as sound as they used to be, even vulnerable. However, note that he did not bid three no-trump, aware that he might never see his partner's hand.
South has four losers: two spades, one heart and one club. If he wins the first (or second) spade and immediately plays a trump, he should concede those tricks. Declarer must reduce that loser count.

The right play is to take a ruffing finesse immediately by running dummy's diamond queen and discarding a spade from his hand, assuming East does not cover with his king.

West takes the trick, cashes a spade and shifts to a club.

South wins that on the board and continues with another diamond, discarding his club loser if East does not play his king. Now it is time to touch trumps. (If East does cover the second diamond, South ruffs and leads a trump. His last club disappears when he is back on the board in clubs.)

** ** **

COPYRIGHT 2011, UNITED FEATURE SYNDICATE

DISTRIBUTED BY UNIVERSAL UCLICK FOR UFS