Posted on
Wed, Nov 2, 2011 : 5 a.m.
Bridge column, November 2: Finesse in a slam with subtlety
By Phillip Alder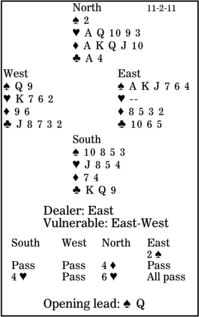 Music genius Brian Eno said: "I'm struck by the insidious, computer-driven tendency to take things out of the domain of muscular activity and put them into the domain of mental activity. The transfer is not paying off. Sure, muscles are unreliable, but they represent several million years of accumulated finesse."
At the bridge table, though, mental activity is much more important than muscle strength.
How strong is your brain? You are South, in six hearts. West leads the spade queen and continues with his second spade. What would be your plan?
East opened two spades, a weak two-bid, with two first-round controls, which is not textbook. However, these days players are much more flexible, especially when void in the other major. North's four diamonds was Leaping Michaels, showing a strong hand with at least 5-5 in hearts and diamonds.
When you advanced with four hearts, North jumped to slam, assuming that you would have six useful points. If you didn't, the bad result would be your fault!

You must assume that West has the heart king. But it is easy to get careless. Watch what happens if you ruff with dummy's heart three at trick two. You cross to your hand with a club and run the heart jack, but the 4-0 break defeats you because you can take only one more finesse. Yes, you will try to return to your hand by ruffing the third diamond, but West will overruff for down one.

Now try ruffing at trick two with dummy's nine. You can play a club to your king, run the heart eight, run the heart jack, play a heart to dummy's queen, cash the heart ace, and claim.

Copyright 2011, Dist. by Universal Uclick for UFS