Posted on
Mon, Nov 21, 2011 : 5 a.m.
Bridge column, November 21: The Magazine for students of the game
By Phillip Alder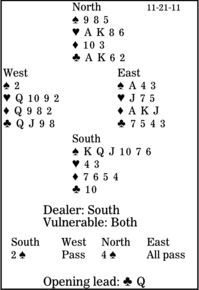 As the holiday season approaches, let's consider some of the gifts you might choose for someone or yourself. This week, we will look at the independently published bridge magazines written in English.
First, if you want to know what is happening in the top echelons of our game, subscribe to The Bridge World. However, it is not aimed only at experts. Recently Jeff Rubens, the editor, expanded the Bridgeworks section, which is for aspiring players, and from which this deal is taken.
How should South plan the play in four spades after West leads the club queen?
When North raised to four spades, he was presumably hoping that South would take 10 tricks in the form of five winners in his hand, North's four tops and a diamond ruff in the North hand. He was right to consider ruffing, but, it turns out, was thinking upside down.
South has five losers in his hand: one spade and four diamonds. And against most opponents, he would not get the chance to ruff more than one diamond in the dummy. Instead, declarer should count winners. He has dummy's four side-suit tricks, so needs six trump tricks: four ruffs in his hand and two winners in the dummy -- you did notice how good dummy's spots are, didn't you?

South should cash dummy's top clubs, discarding a diamond from his hand. Then he should ruff a club high, play a heart to dummy's king, ruff another club high, lead a heart to the ace, ruff a heart high, and exit with a diamond.

When declarer is in the dummy in spades, he ruffs the last heart high to gain those 10 tricks.

Details are available at www.bridgeworld.com.

** ** **

COPYRIGHT 2011, UNITED FEATURE SYNDICATE

DISTRIBUTED BY UNIVERSAL UCLICK FOR UFS