Posted on
Wed, Nov 23, 2011 : 5 a.m.
Bridge column, November 23: From the largest down under country
By Phillip Alder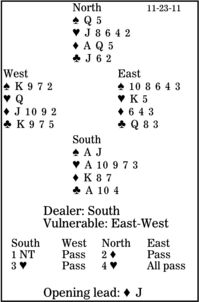 Australian Bridge is published every two months. It follows the standard policy of aiming primarily at tournament players but also tries to appeal to players who wish to improve their game.
Tim Bourke is one of the world's most prolific composers of declarer-play problems. This one appeared in Australian Bridge.
How should South plan the play in four hearts after West leads the diamond jack?
It is sensible for South to open one no-trump. (If he starts one heart and North responds one spade, South will have no rebid.) When North transfers into hearts, South must superaccept with five-card support.
South is faced with lots of losers: one in spades, one or two in hearts and one or two in clubs. It is a matter of trying to maximize the chances.

Declarer should win the first trick in the dummy and play a heart to his 10 -- he should not risk losing two trump tricks if East has all three (an 11 percent probability). Here, West wins with his queen and plays a second diamond.

South should win with his king, cash the heart ace, play a diamond to dummy's ace, and call for the spade queen, encouraging East to cover if he has the king. But when he plays low, declarer should win with his ace and exit with the spade jack. Whoever wins the trick must either open up clubs (declarer plays second hand low and will have only one loser in the suit) or concede a ruff-and-sluff.

Details are at available at www. australianbridge.com.

** ** **

COPYRIGHT 2011, UNITED FEATURE SYNDICATE

DISTRIBUTED BY UNIVERSAL UCLICK FOR UFS