Posted on
Thu, Nov 24, 2011 : 5 a.m.
Bridge column, November 24: From a smaller down under country
By Phillip Alder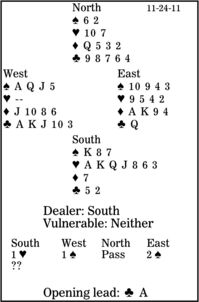 First of all, I hope all of my American readers have a very happy time on Thanksgiving.
New Zealand Bridge is a magazine in a small-page format that appears six times a year. It primarily talks about bridge tournaments in New Zealand and that country's international teams, but editor Richard Solomon is happy to show weird bidding and play, unlike other magazines, which concentrate on the good.
Take this deal as an example. Look at the South hand. You deal and open one heart, West overcalls one spade, North passes, and East raises to two spades. What would you do now?
The deal occurred during the 2001 Oceania Championships. We will never know why West failed to make a takeout double over one heart. And East's two-spade raise was distinctly cautious, with an ace-king, a singleton and four-card support for what he expected to be a five-card suit. Note that seven spades is makable by West.
Holding the South cards was Fred Whittaker, who is a fun guy with a dangerously imaginative streak to his bridge. In this instance, anticipating a spade lead, he rebid three no-trump!

West, though, had not read the spade-lead script. He tabled the club ace. He then cashed three more club winners, East discarding two hearts (good) and an encouraging diamond (bad). Now his side could take only three diamond tricks, followed by four spades. Whittaker took the last two tricks with dummy's diamond queen and club nine -- for down seven.

Details are available at www.nzbridge.org.nz.

** ** **

COPYRIGHT 2011, UNITED FEATURE SYNDICATE

DISTRIBUTED BY UNIVERSAL UCLICK FOR UFS