Posted on
Fri, Nov 25, 2011 : 5 a.m.
Bridge column, November 25: A subscription gains a magazine
By Phillip Alder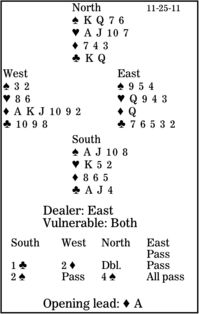 If you or your gift receiver is not a member of the American Contract Bridge League, it is time to join.
The main plus is getting The Bulletin every month. This contains a lot of instructional articles aimed at all levels. Eddie Kantar usually sets two tough card-play problems for the good players and writes an article called Chalk Talk, in which he discusses two easier but instructive deals.
Well, how should the play go in four spades after West leads the diamond ace?
West had a textbook weak jump overcall. (Kantar says that if your hand looks like a weak-two opening, it is good for a weak jump overcall.) North's double was negative. His hand was ideal because he had two four-card majors. (Sometimes, though, you will have to double with only one major. If partner then rebids in the other major, good luck!) South's two-spade rebid announced a minimum opening.
West cashes three diamond tricks, East discarding two clubs. Then West should shift to that suit. It is almost never right to lead through a suit like dummy's hearts.

South must find the heart queen to get home and can finesse through either opponent. When this is the situation, declarer should first find out as much as possible about the other three suits. Here, he draws trumps and cashes the rest of his clubs, learning that East started with 3-4-1-5 shape. So, since East began with four hearts and West only two, declarer finesses through East.

Details are available at www.acbl.org.

** ** **

COPYRIGHT 2011, UNITED FEATURE SYNDICATE

DISTRIBUTED BY UNIVERSAL UCLICK FOR UFS