Posted on
Sat, Nov 26, 2011 : 5 a.m.
Bridge column, November 26: From travels around the globe
By Phillip Alder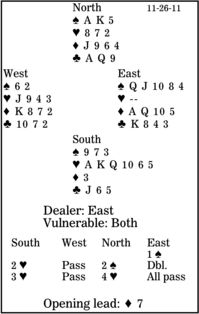 Traveling around the world, one sees and learns many interesting things. For example, in Norway, despite North Sea oil, gas for a car is about $12 per gallon -- except on Sundays, when it is "only" $10.
This deal was played during last summer's Norwegian Bridge Festival in Lillehammer. At both tables in a match, South was in four hearts, North having cue-bid two spades to show a good hand with heart support.
The first West led the diamond seven, third-highest from an even number or lowest from an odd number. East won with his ace and returned a diamond. The declarer, John Vegard Aa, ruffed and cashed his heart ace to get the bad news. Now he seemed to have one loser in each suit, but he spotted a possible way to win 10 tricks.
South led a club to dummy's queen. East won with his king and shifted to the spade queen, but declarer won in the dummy, ruffed a diamond, cashed his three black-suit winners ending in the dummy, and ruffed another diamond. That gave him two spades, three top hearts, three diamond ruffs and two clubs. East and West both had winners at trick 13: East's spade jack and West's heart jack.

At the other table, Karl Martin Lunna, West, led his spade six. South won in the dummy, played a heart to his ace, and led a diamond to dummy's nine. But East, Ove Andersbakken, won with his 10 and returned the spade queen. Declarer won on the board and ruffed a diamond, but when he next took the losing club finesse, East cashed a spade trick, and the contract had to go down one.

** ** **

COPYRIGHT 2011, UNITED FEATURE SYNDICATE

DISTRIBUTED BY UNIVERSAL UCLICK FOR UFS