Posted on
Mon, Nov 28, 2011 : 5 a.m.
Bridge column, November 28: Best bridge books from this year
By Phillip Alder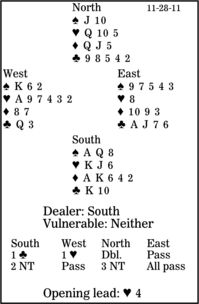 As we approach the holiday season, let's look at some of the recently published bridge books that might appeal to the player on your gift list.
"The Rodwell Files" by Eric Rodwell with Mark Horton (Master Point Press) won the best book of the year award from the International Bridge Press Association.
In nearly 400 pages, Rodwell, one of the greatest players of all time, reveals how he thinks about the game, using many examples.
This deal from the book contains important points. It arose during the semifinal between China and the United States at the 2009 Bermuda Bowl in Brazil.
One club showed 16-plus points. Double promised 5 to 8 points.
Against three no-trump, Nick Nickell, West, led his fourth-highest heart. Declarer won in the dummy and ran the spade jack, which held the trick. Then, being greedy, he ran dummy's spade 10. West produced his king and returned his remaining spade. South won and played a heart, but West took his ace and shifted to a club. Ralph Katz, East, won with his ace and cashed two spade tricks for down one.

Here are the key points: (1) Do not always assume that because a finesse worked once, it will work again. (2) If declarer is taking a losing finesse that you think he will repeat, duck on the first round. (3) Count your winners. When South won the second trick, he could have led a heart to guarantee nine tricks via two spades, two hearts and five diamonds.

Books from Master Point Press can be downloaded to your computer in PDF format.

** ** **

COPYRIGHT 2011, UNITED FEATURE SYNDICATE

DISTRIBUTED BY UNIVERSAL UCLICK FOR UFS