Posted on
Tue, Nov 29, 2011 : 5 a.m.
Bridge column, November 29: A natural bidder uses a strong club
By Phillip Alder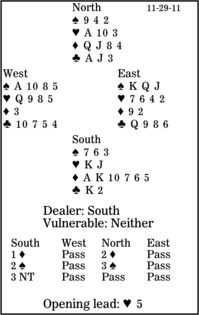 Victor Mollo wrote many stories about his menagerie of bridge players. He died in 1987, but recently some unpublished articles surfaced. They have been put, along with some previously published material, into "The Hog Takes to Precision" (Master Point Press).
The chapters in which the Hideous Hog uses the Precision Club bidding system to make life easier for his partners, especially the Rueful Rabbit, are terrific. The others I had seen before.
If you have never read any of Mollo's stories, get an older book first, perhaps the original "Bridge in the Menagerie," to become acquainted with the characters, then turn to this volume.
In this deal from the book, two diamonds was an inverted minor-suit raise, showing 10-plus points and denying a four-card or longer major. Two spades was a Hog special, in principle showing a spade stopper and denying a heart stopper. Three spades by the Rueful Rabbit was a transfer bid, asking his partner to bid three no-trump.

Now West understandably chose a heart lead. Since it was a pair event, every trick was vital. The Hog won with his jack, cashed the heart king, crossed to the diamond queen, took the heart ace, discarding a spade, and ran the diamonds, bringing everyone down to four cards.

East, "knowing" South had the spade ace, believed he couldn't have the club king, because that would have given him 18 points, enough for a one-club opening. So she discarded three clubs. Now the Hog ended with 12 tricks for a cold top.

** ** **

COPYRIGHT 2011, UNITED FEATURE SYNDICATE

DISTRIBUTED BY UNIVERSAL UCLICK FOR UFS