Posted on
Thu, Nov 3, 2011 : 5 a.m.
Bridge column, November 3: If you need luck, play for it
By Phillip Alder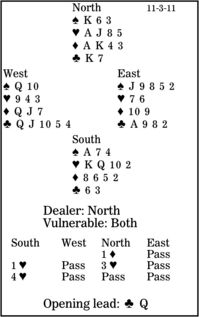 Author John le Carre said: "It's easy to forget what intelligence consists of: luck and speculation. Here and there, a windfall; here and there, a scoop."
At the bridge table it is: "here and there, a windfall (and a scoop for the journalist who hears about the deal); here and there, failure."
In this deal, the declarer at the table would expect to fail in four hearts, but if he plays for a windfall, he will get lucky. What should South do? West leads the club queen, and the defenders take two tricks in the suit before shifting to a spade.
North was worth three-and-a-half hearts on the second round of the auction. But most opponents won't permit such a precise description. (He had 19 support points, 18 in high cards and one for his doubleton, which suggested rebidding four hearts. But he had six losers -- two spades, two hearts, one diamond and one club -- which advised settling for three hearts.) South had enough to raise to game: 10 support points and eight losers.
Along with the two clubs, there seem to be two other losers: one in spades and one in diamonds, resulting in down one. But there is a chance. Maybe the person who has three diamonds holds at most two spades.

Draw trumps, cash the spade and diamond tops, then exit with a diamond.

Here, you get a windfall. West wins the trick and must return a club. You ruff in one hand and sluff your remaining spade from the other hand. Then buy a lottery ticket.

Copyright 2011, Dist. by Universal Uclick for UFS