Posted on
Mon, Nov 7, 2011 : 5 a.m.
Bridge column, November 7: Mental gymnastics to make a contract
By Phillip Alder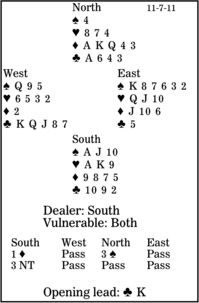 Robert Orben, a comedy writer and magician, said, "Old people shouldn't eat health foods. They need all the preservatives they can get."

Everyone should work and eat to keep the brain healthy. The more thoughts you have at the bridge table, the better.

In this example, how would you try to land three no-trump after West leads the club king?

North's three-spade response was a splinter bid, showing good diamond support, at least game-forcing values and a singleton or void in spades. (Remember that a singleton is seven times more likely than a void.) You, with strong spades and a hand unsuitable for a high-level minor-suit contract, rebid three no-trump. With nothing extra, North had an easy pass.


You start with seven top tricks: one spade, two hearts, three diamonds and one club. Unless diamonds are 4-0, which will happen only 9.6 percent of the time, that suit seems to provide the two extra winners that you need. However, do you see the bug in the balm?

Unless diamonds are 2-2 (40.7 percent) instead of 3-1 (49.7 percent), the suit will be blocked. You will have to win the fourth round in your hand, and the club lead has dislodged dummy's entry card. What is the solution?

You must duck the first trick. West will continue with the club jack. (If he shifts, the club ace is still in the dummy as an entry.) Let him take that trick as well -- and the third club. On the fourth club, discard one of your blocking diamonds. Then you can run the suit and get home.

Copyright 2011 UFS, Dist. by Universal Uclick for UFS