Posted on
Mon, Oct 17, 2011 : 5 a.m.
Bridge column, October 17: The honor play shows the entry
By Phillip Alder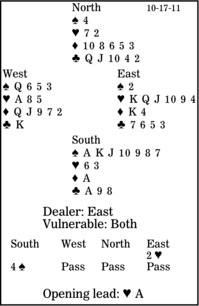 There are defensive "rules" for playing honor cards. Sometimes they will make no difference, but on other occasions they will be vital for defeating a contract. Even if you cannot know for sure what will happen as a deal progresses, if you make the right play every time, you will give your side its best chance of success.

This deal offers an example. South is in four spades. West leads the heart ace. What should happen?

East has a good weak two-bid, showing a respectable six-card suit and 6 to 10 high-card points. South then assumes his partner has six or seven high-card points. With a useful card or two opposite, he wants to be in game, so he jumps immediately to four spades. If a slam is making, South must hope that North takes the push, because four spades is not a weak bid. Remember, you do not pre-empt against a pre-empt.
The rule relevant to this deal: When you cannot win a trick, because either someone has already played a higher card than your best or you are discarding, play the top of touching honors.

Here, East must drop the king under West's ace, indicating that he has at least the queen behind the king.

Now if West is a thoughtful defender, he will see how to defeat the contract. At trick two, he will shift to the club king.

South will take his ace and play three rounds of trumps. West will win the third round and lead a heart over to East, who will then play a club for West to ruff.

Copyright 2011, UFS, Dist. by Universal Uclick for UFS