Posted on
Tue, Oct 18, 2011 : 5 a.m.
Bridge column, October 18: A weird bid and a weird play
By Phillip Alder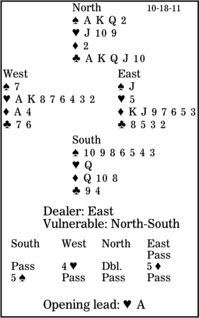 In yesterday's deal, the play of a king by a defender signaled that he also had the queen in that suit. Rarely, though, a king can be used to send a different message.

This deal was played in a match during the Truscott/U.S. Playing Card Senior Swiss Teams at the Summer North American Championships in Toronto last July.

Surprisingly, the auctions at both tables were identical. East's five diamonds was highly debatable. He had no reason to expect that contract to be better than four hearts, and South might have been about to pass. Here, though, five diamonds worked well because it pushed South into five spades, which was in theory too high.

At the first table, West led his heart ace, then cashed the diamond ace, under which East unwisely encouraged. When West played a second diamond, the declarer, Ruth Stober of Great Neck, N.Y., ruffed high in the dummy, drew trumps and claimed.


At the other table, West also led the heart ace and cashed the diamond ace. What happened next?

East, Henry Nelson of Zelienople, Pa., knew that he could ruff another heart lead with his spade jack to defeat the contract. But how would West, Steve Conrad of Manhasset, N.Y., ever find that play?

Trying to get his partner to think outside the box, East threw his diamond king under partner's ace. Getting the message, West led a heart for down one.

When you need your partner to find an unlikely lead, make what is called an Alarm Clock play by doing something out of the ordinary.

Copyright 2011, UFS, Dist. by Universal Uclick for UFS