Posted on
Wed, Oct 19, 2011 : 5 a.m.
Bridge column, October 19: Playing a king kills a king
By Phillip Alder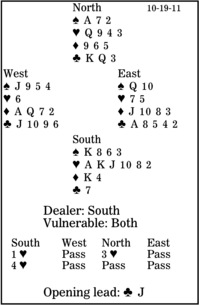 So far this week we have had two deals in which the play of a king was key to the outcome. Here is an antithesis of those.

South barrels into four hearts. West leads the club jack. What should happen? After North made a game-invitational limit raise, South momentarily thought about a slam. North might have nothing wasted in clubs, ace-doubleton of spades and the diamond ace. But if you wait for partner to have the ideal hand, you might still be looking at your watch in the next decade!

South, counting losers, sees one in spades (he can ruff his fourth spade in the dummy), none in hearts, one or two in diamonds and one in clubs (because West would not lead away from the club ace). The risk, clearly, is two diamond losers. For that to happen, West must have the diamond ace, and East must gain the lead to shift to that suit while South still has two diamonds in his hand.
And if declarer makes the natural-looking play, covering West's club jack with dummy's king, East will kill that king with his ace and switch to the diamond jack, killing a second king and the contract.

Instead, suppose South plays dummy's low club at trick one. If East overtakes with his ace and shifts to diamonds, yes, declarer loses three minor-suit tricks, but he no longer concedes a spade, because dummy's two high clubs provide discards.

Now have East play low at trick one. West leads another club, say. South ruffs away East's ace, draws trumps ending in the dummy, and discards a diamond on the club king to lose only one trick in each side suit.

Copyright 2011, UFS, Dist. by Universal Uclick for UFS