Posted on
Sat, Oct 22, 2011 : 5 a.m.
Bridge column, October 22: Using a king to enter dummy
By Phillip Alder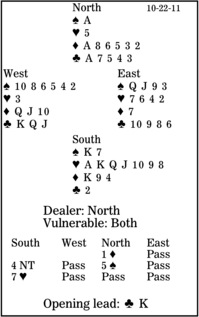 Jean de La Fontaine, a French fabulist and poet who died in 1695, said, "Better to rely on one powerful king than on many little princes (jacks)."

To end our week of studying deals in which kings play marquee roles, here is a dramatic one.

How should South play in seven hearts after West leads the club king?

Once you have decided upon your line, did West have a more effective opening lead? The bidding was brisk and upbeat, South hoping that there would not be a third-round diamond loser. This was understandable because North had opened one diamond, but it was optimistic because North could not be short in the suit.
South has only 12 winners: two spades, seven hearts, two diamonds and one club. Yes, diamonds might be 2-2, but that is less likely (40.7 percent to 62.2 percent) that clubs are 4-3. Then a long club can be established in the dummy. However, as that requires ruffing three low clubs in his hand, declarer needs four dummy entries: three for the ruffs and one to return there to cash the club seven. What must those entries be? The three aces are obvious, but what is the fourth?

After winning with dummy's club ace, South trumps a club, plays a spade to dummy's ace, ruffs another club, and trumps his spade king for the extra entry. He ruffs a third club, draws trumps, plays a diamond to dummy's ace, and cashes the last club, discarding his remaining low diamond.

That really was putting a king to good use. However, it was lucky that West didn't lead a spade or a trump.

Copyright 2011, UFS, Dist. by Universal Uclick for UFS