Posted on
Mon, Oct 24, 2011 : 5 a.m.
Bridge column, October 24: Delay the decisive discard decision
By Phillip Alder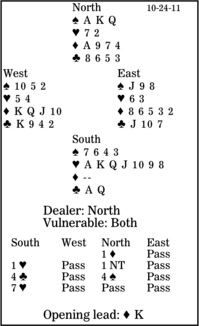 George Canning, who was the British prime minister for only four months before dying in office in 1827, said, "Indecision and delays are the parents of failure."

That can be right or wrong at the bridge table. Look at this deal. How would you play in seven hearts after West leads the diamond king?

Although seven hearts is good, I could not construct an auction to get there with any certainty -- and bidding grand slams with uncertainty is not a way to get wealthy at this game. In this sequence, four clubs is Gerber, asking for aces.

A trump is often recommended as the lead against a grand slam. Here, though, West has great diamonds and no reason to think that he can stop declarer from ruffing any losers in the dummy.
There are 12 top tricks: three spades, seven hearts, one diamond and one club. The 13th might come from either a 3-3 spade break (35.53 percent) or the club finesse (50 percent). So it looks best to make the decisive discard of a low spade on dummy's diamond ace at trick one.

However, as you can see, that results in defeat. How could you have known?

Delay the decision. At the first trick, play a low diamond from dummy and ruff in your hand. Then, after drawing trumps, cash dummy's spades. When they break 3-3, you know to pitch the club queen on the diamond ace. But if spades had not broken evenly, you would have thrown your last spade on the diamond ace and taken the club finesse. Your chances are nearly 68 percent.

Copyright 2011 UFS, Dist. by Universal Uclick for UFS