Posted on
Thu, Oct 27, 2011 : 5 a.m.
Bridge column, October 27: How to handle possible bad breaks
By Phillip Alder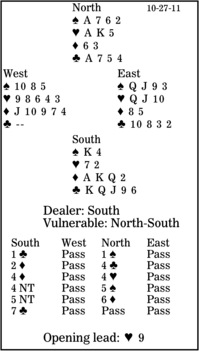 Judith Viorst, a novelist and poet, said, "Strength is the capacity to break a chocolate bar into four pieces with your bare hands, and then eat just one of the pieces."

In today's deal, with four trumps missing, the declarer has to be careful to allow for a bad break in that suit.

South is in seven clubs. After West leads the heart nine, what should declarer do?

The auction was instructive. South's two-diamond rebid was a reverse, showing extra values (usually 17 to 20 high-card points), five-plus clubs and shorter diamonds. Four clubs announced slam interest in clubs. South control-bid (cue-bid) four diamonds. Then, when North control-bid in hearts, South, now knowing that the opponents could not cash the first two tricks in that suit, used Blackwood twice before bidding seven clubs.
South has 12 top tricks: two spades, two hearts, three diamonds and five clubs. The 13th winner should come from ruffing the diamond two in the dummy, generating a sixth trump trick.

If the trumps are breaking kindly, everything is fine. Just in case they are 4-0, though, declarer should play a trump to his hand at trick two. When West discards, South cashes the ace and king of diamonds, ruffs the diamond two with dummy's trump ace, plays a club to his nine, draws trumps, and claims.

Copyright 2011 UFS, Dist. by Universal Uclick for UFS