Posted on
Fri, Oct 28, 2011 : 5 a.m.
Bridge column, October 28: A four-three fit can be best
By Phillip Alder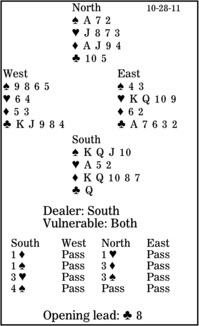 We choose a major-suit contract when we have a good fit: at least eight trumps. If we do not have a major-suit fit, we usually steer into no-trump. However, occasionally it will be apparent that no-trump will not work because the opponents can run a suit. Then we usually play in a minor suit. Rarely, we will choose a major even though we do not have an eight-card fit.

As you deduced, today's deal is an example. Three no-trump does not make, the opponents immediately taking five club tricks. Five diamonds cannot succeed, the defenders taking two hearts and one club. The only game with play is four spades in the strong 4-3 fit.

When you play in a 4-3 fit, you need good trumps. In this auction, North did not want to play in four hearts, because his hearts were so weak. However, South was happy to try to make four spades because his suit was strong. Good bidding!
West leads a low club. East wins with his ace and returns the club three, his original fourth-highest. How should South continue from there?

Declarer has 10 top tricks: four spades, one heart and five diamonds. However, to cash those diamonds, South must draw trumps first. Everything is easy if the missing spades are breaking 3-3, but they are more likely to be 4-2. So, at trick two, declarer should not ruff, he should discard a heart from his hand, which is an inevitable loser. If West plays a third club, South ruffs with dummy's spade ace, draws trumps, and claims. If West shifts, South wins the trick, draws trumps, and claims.

Copyright 2011 UFS, Dist. by Universal Uclick for UFS