Posted on
Mon, Oct 31, 2011 : 5 a.m.
Bridge column, October 31: Do not assume all will be easy
By Phillip Alder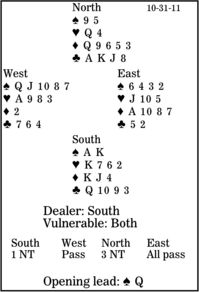 Andre Maurois, a French author who was born in 1885, said, "Conversation would be vastly improved by the constant use of four simple words: I do not know."
After a bridge deal, when his partner has asked, "Why did you do that?" how often have you heard someone answer, "I do not know"? Not often, is my guess.
In today's deal, it is easy to go wrong. How should South plan the play in three no-trump after West leads the spade queen to the king?
South starts with six top tricks: two spades and four clubs. And since the diamond suit seems good for another four winners, it looks obvious to lead the diamond king, an honor from the shorter side first. However, East takes that and returns a spade. Declarer wins and cashes his diamond jack, getting the bad news. Suddenly there are only eight winners. And when South plays a heart, West grabs his ace and takes three spade tricks for down one.
The right approach is to lead up to the hand with two honors. Declarer should cross to dummy with a club and play a diamond to his king. Then he returns to dummy with another club and repeats the process. If East wins with his ace, South takes two spades, four diamonds and four clubs. If East ducks, South wins with his jack and plays a heart, collecting two spades, one heart, two diamonds and four clubs.

What happens if West has A-10-x-x of diamonds? Declarer finesses dummy's nine on the third round of the suit.

Copyright 2011, Dist. by Universal Uclick for UFS