Posted on
Sat, Sep 7, 2013 : 4:35 p.m.
Bridge column, September 7: If penalizing, lead accurately
By Philip Alder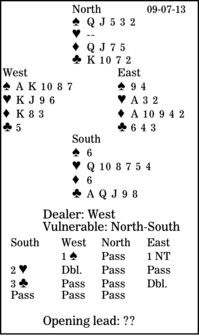 The bridge played in a pair tournament can be somewhat artificial. It is no longer just trying to make or break a contract, but it is also working to score better than the other players with your cards. This can result in making close penalty doubles, especially when the opponents are vulnerable, or taking risks for overtricks.
This deal was originally played a few years ago. After West opened one spade and East responded one no-trump, South thought about a two-spade Michaels Cue-Bid, showing at least 5-5 in hearts and a minor. But that would have forced his side to the three-level, and he had a sixth heart. So he reasonably overcalled two hearts. When West doubled, though, South sensed that he was in a bad contract. (This would have gone down two or three, minus 500 or 800.) So South ran to three clubs. Then East, who had two wonderful aces, decided to try for the magic plus 200 on a partscore deal.
However, it is all right making sharp penalty doubles; you had also better know what to lead. Which card should West select?

There is an excellent guideline here. If your side has the balance of high-card power, the opponents will be trying to score tricks with their trumps. So the more rounds you can extract, the better. The only winning lead is a trump.

Suppose South takes it in his hand and plays his spade. West wins and shifts to a low diamond to give his partner the lead for another round of trumps. In theory, nothing else works.

** ** **

COPYRIGHT: 2013, UNITED FEATURE SYNDICATE
DISTRIBUTED BY UNIVERSAL UCLICK FOR UFS