Posted on
Mon, Sep 9, 2013 : 5 a.m.
Bridge column, September 9: Do not waste "useless" assets
By Philip Alder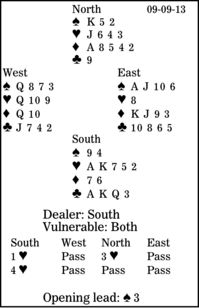 Harold Wilson, who was the British prime minister for two separate terms, said, "I believe the greatest asset a head of state can have is the ability to get a good night's sleep."
It does not pay to be sleepy at the bridge table, which is why many players consume caffeinated drinks. Today's deal, though, is about declarer making the most of his assets, the cards.
South is in four hearts. West leads a low spade. How should declarer proceed? North gets three points for his singleton, so it is easily worth three hearts. (His hand also has eight losers.)
The North hand has few assets, but it is important to make the most of them. South must not call for dummy's spade king at trick one. It is so unlikely that West is underleading the ace. And, here, if East does take the first trick with his ace over dummy's king, declarer will lose two spades, one heart and one diamond.

Instead, let dummy play low. After East wins the first trick with his 10, what does he do next?

If East cashes the spade ace, declarer will discard his diamond loser on the spade king, ruff his club three on the board, and lose only two spades and one heart. Suppose East does not take his ace, shifting to a club. Then declarer wins in his hand; draws one round of trumps; cashes his two top clubs, sluffing dummy's remaining spades; and, to get communication between the two hands, plays two rounds of diamonds. Whatever happens now, South can draw a second round of trumps, ruff his last spade on the board, ruff a diamond in his hand, and ruff the club three to get home.

** **

COPYRIGHT: 2013, UNITED FEATURE SYNDICATE
DISTRIBUTED BY UNIVERSAL UCLICK FOR UFS