Daily Bridge column, April 2
Posted on Sat, Apr 2, 2011 : 5 a.m.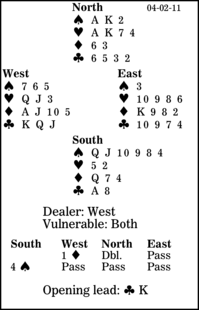 The famous ruff in the dummy
By Phillip Alder
The Senior Life Master had been asked to give classes at a high school, to pupils who had been playing for a short while. He chose to explain the various ways for declarer to eliminate losers.
"When you are declarer and the dummy has come down," began the SLM, "you must pause for at least 30 seconds to plan the play."
If you are in no-trump, the SLM continued, count your top tricks, as we did last week. But when you are in a trump contract, you count losers, the tricks the defenders are threatening to take. You look at your 13 cards (assuming you have more trumps than the dummy) and take dummy's high cards into account.
Let's do that with this deal, where you are in four spades and West has led the club king.
You have no spade losers -- it would take considerable skill to lose a trump trick. You have no heart losers, because your doubleton is covered by dummy's ace and king. You have three diamond losers in your hand. And you have one club loser -- a total of four.
That's problematic, but a common way of eliminating a loser is to ruff it on the board. Note that you start with six trump tricks. But if you can ruff something on the board, it will give you a seventh spade winner. So, take the first trick with your ace and lead a diamond.
Let's assume the defenders shift to a trump. Take that on the board and play another diamond. Win the next spade lead in your hand and trump your last diamond on the board. You take six spades, two hearts, one club and the diamond ruff in the shorter trump hand.
Copyright 2011, United Feature Syndicate