Daily Bridge column, March 9
Posted on Wed, Mar 9, 2011 : 5 a.m.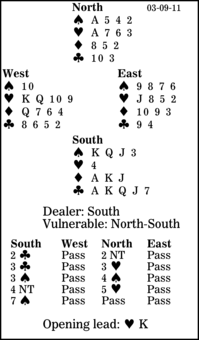 To take 13 tricks, find 13 winners
By Phillip Alder
Whenever you reach a grand slam, there is no point counting losers -- you can't afford any. Instead, find 13 winners. Well, which 13 catch your eye in this seven-spade contract?
I like North's two-no-trump response because it describes a balanced hand with at least eight high-card points. I know this is out of favor because if the final contract is in no-trump, the wrong hand might be playing it. However, suppose the bidding starts two clubs - two diamonds - three clubs. What would happen after that? A lot of confusion, it seems to me. Remember, if North now bids three hearts, that shows a five-card suit.
You start with 12 top tricks: four spades, one heart, two diamonds and five clubs. You could try the diamond finesse, but there is a much better option: a heart ruff in your hand. Win with dummy's heart ace and trump a heart with your spade three. Then, cash your top trumps, play a club to dummy's 10, draw East's last spade, discarding your diamond jack, and claim the last six tricks with your diamonds and clubs.
Phillip Alder is teaching during the American Contract Bridge League's Sectional at Sea from July 19 to 26 aboard Cunard's Queen Elizabeth. The cruise starts and ends in Southampton, England, and goes to the Norwegian fjords and the North Cape. Details are at www.phillipalderbridge.com
Copyright 2011, United Feature Syndicate