Posted on
Tue, Sep 25, 2012 : 2:02 p.m.
Conan O'Brien's 'web guy' Aaron Bleyaert, from Ann Arbor, talks about his career and his Emmy win
By Jenn McKee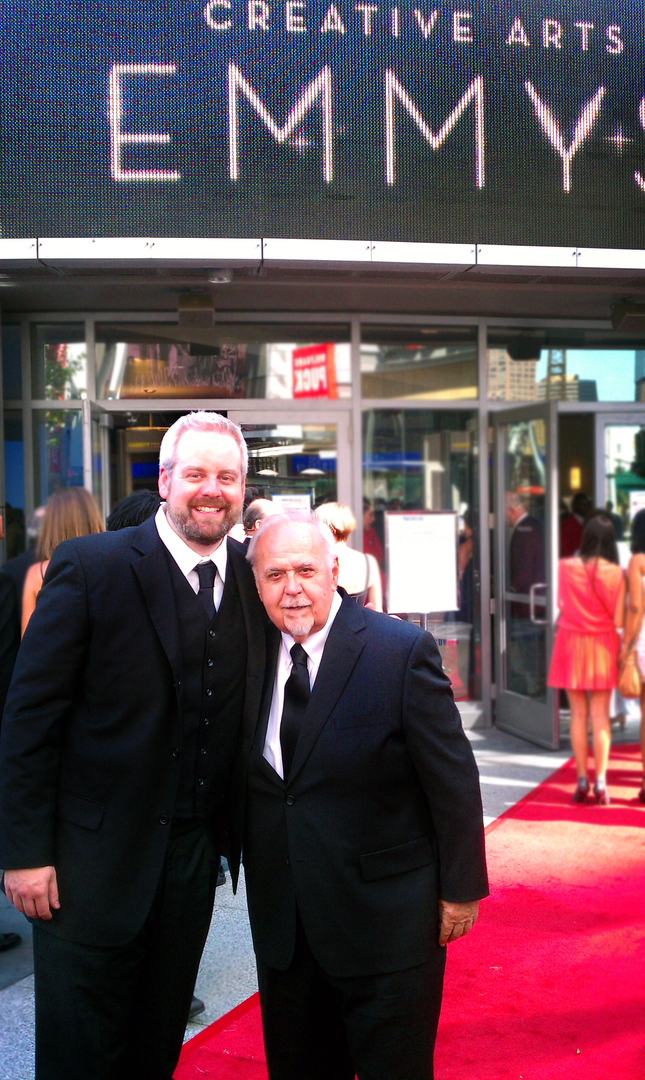 Photo courtesy of Aaron Bleyaert
Aaron Bleyaert
—an Ann Arbor native who's a graduate of Pioneer High School and Michigan State University—
won a Creative Arts Emmy
on September 15 for his work on an app for the late night talk show "Conan" on TBS.
To mark the occasion, AnnArbor.com sent Bleyaert a few questions by email to discuss his app, his Emmy win, and his career path.
Q. The Emmy is for an app you helped develop, which users interact with while an ep of "Conan" is airing—is that right? Why do you think the app distinguished itself and earned the Emmy?
A. Yes! The Team Coco Sync App won an Emmy in the confusing and lengthily named category of "Outstanding Creative Achievement In Interactive Media - Enhancement To A Television Program or Series." Our app uses the same type of technology as Shazam or other music tagging services to "listen" to the Conan episode you're watching, and serves up delicious extra nuggets of Coco-related comedy, like exclusive videos, behind the scenes photos, polls, quizzes, facts, and much more about what's happening on your TV the moment it happens.
For instance, during the commercial break, you might see behind the scenes photos of Jennifer Aniston waiting behind the curtain before she comes out—which is what she was doing at that moment while the show was taping! The effect is truly some magical Harry Potter-esque stuff, and really gives our fans more of a 360 degree Conan experience. I write what goes into the Sync App every night, so I know what's coming up in the sync app, and I still think it's pretty mindblowing. One of the coolest parts of the app is that even if you don't have a television, you can still participate in the sync experience by watching the episode through the app itself while the sync is going on—which is something unique to us.
The other nominees we were up against ("Top Chef" and "Game of Thrones") both had fantastic entries as well, but I think our app distinguished itself because it offers a much more visceral, enhanced 2 screen experience (which is boring marketing speak for when you use your computer or iPad while watching TV)—just from the pure and simple fact that we do four shows a week; we have an extra hour of content available on the app nearly every day, and we have only two hours to produce that extra hour. And for every show we put together a whole extra hour of comedy for the app that we only have two hours to do! It's really crazy, when you think about it. Super crazy. It's not healthy. We're sick, demented comedy nerds.
Q. The Emmys seem to be making a real effort to add categories as technology changes the way we consume television shows. How do you think they're doing on this front?
A. I think they're doing well! I mean, who am I to say—I'm just a goofy guy who gets to write comedy and make things for the internet. … I will say that I think that the whole industry is in a state of flux right now. Most people my age and younger get most of their entertainment from the internet, so it's nice to see the Academy being proactive and making efforts to celebrate achievements in the digital realm. The categories for us digital folks change frequently, and while that keeps us on our toes in terms of what we can and can't be nominated for, it's encouraging to see such a classic institution as the Television Academy of Arts & Sciences rolling with the punches and staying hip to how fast things are moving. It's really impressive (and everyone working in my field appreciates it!).
Q. Could you describe your career path, and tell us how you came to be in your current job?
A. I think like most career paths, mine has been weird and unpredictable. I cut my teeth in comedy and really got to hone my craft early on by producing an unhealthy amount of student television at Michigan State with an incredible group of people called The MSU Telecasters. From that, I was lucky enough to get an internship at "Late Night with Conan O'Brien" in 2001, right out of college - and then even luckier to be hired by Conan two weeks after my internship ended. My first job with Conan was the assistant to the segment producers (where I typed up the blue card Conan uses in interviews), then I moved on to video research (where I found clips for the show), photo research (like video research, but fewer moving pictures), and into guest research (where I read up on the celebs who come on our show).
My "big break" that ended up leading me into what I do now actually first appeared as a tiny crack: I had been writing a tiny blog for fun in my free time that few people on the show knew about; so when it came down from on high that every show at NBC needed a web presence (and none of our writers or anyone else on the show wanted to do it), somebody asked me if I'd want to write the show blog. I jumped at the chance and really ran with it. I asked Conan and (our executive producer) Jeff Ross if I could start making little videos for the internet, and they said sure. So then I started making little videos. No one really paid me any attention, but I still gave it 110 percent—I mean, if you're going to do something, why not do it as well as you possibly can, right?
Then the tiny crack opened up wider: the WGA strike happened, "Late Night" was forced off the air—and suddenly those "little web videos" I had been toiling away on in obscurity were now the only thing our show was doing! I had been doing all that web stuff at night on top of my regular research job—so a bit later, when we moved out to L.A. for "The Tonight Show," I asked if doing the web stuff could be my sole job. Conan and Jeff agreed, and then I became "the web guy"—a sort of one man digital army, so to speak. After "The Tonight Show" ended, I was lucky enough to be tapped by Conan to write the tour blog, make tour videos, and travel around the country playing a character of ours called "The Masturbating Bear" - which made for a surreal and exciting summer. … Finally, once our show started on TBS, and we were more focused on the web, I found myself with a tremendous group of amazing and talented folks. And TeamCoco.com was born!
Q. Could you tell me about the experience of being at the ceremony, and getting up to get an award?
A. I took my dad (who's turning 83 in a few weeks) to the ceremony, and one of the biggest thrills of the night actually happened in the lobby, before the show started; we had just walked in from the brutal 101 degree heat outside, and were standing there looking around for the bar to get some water (formal black suits aren't great L.A. summerwear). This guy steps up next to my dad, and I realize that it's Vince Gilligan - the creator of "Breaking Bad"! I was lucky enough to have interviewed Vince a month or two ago for the Team Coco podcast I do … and I blurted out "Vince!" and he turned and looked at me, confused. I stammered out "Uh … Team Coco thing … Podcast … " and then his face lit up and he was like "Aaron! How are ya, man?" And I was blown away! I introduced him to my Dad, who was stunned (both my parents are obsessive "Breaking Bad" fans), and we all talked about "Breaking Bad" and being nominated and the awards (he was also presenting a number of awards that night) and everything. Vince is the nicest, coolest person on the planet, and it was really special to run into him on a night like that. We also saw a bunch of other people like Neil Patrick Harris, Anthony Bourdain, and more. It was super cool for my pop.
Getting the award was … surreal. Super weird. We were up against "Game of Thrones" and "Top Chef," and Olympic gold medalist Allyson Felix was the woman opening the envelope - I'm sure that this only happened in my head, but when she opened it, I thought she was going to say "Top Chef"—so in my mind I heard "and the winner is... Taaaahhhhpppppeeeeeeem Coco!" It was hilarious. My two coworkers and I went up and all made a sloppy speech that had people laughing, then we went backstage, got interviewed, shook a lot of hands, got congratulated by LL Cool J who was back there after presenting an award, then got our trophies and took photos. The whole thing was really cool and totally unreal, you sign a piece of paper in this binder, and they hand you your trophy! They just … hand it to you. No box or anything. So you walk around the Governor's Ball with this giant gold trophy in your hand all night. It's kind of cool. And those wings are really sharp.
Q. I saw the Clueless Gamer segment, featuring you and Conan, on your blog. As a guy who's usually not in front of the camera, are you also comfortable doing things like this?
A. Being on camera is pretty comfortable for me. I've been performing stand up on and off for years, and acting in all sorts of little internet things for friends—and on top of which, I interview celebs both on camera and on the podcast every week for our show—so it's not weird being in front of the camera any more. Also, Hollywood has made me dead inside, so I don't really get nervous or care about what happens when the camera is rolling. … Honestly, the weird part of performing with Conan is having to play the straight man - usually, I'm the goofy idiot who's talking to people or playing a dumb character (years ago I played a guy on our show who could give himself a wedgie with his own mind, for instance) so it's hard for me to keep my mouth shut. That being said: whenever I do anything with Conan, even hanging out in his office, it's like a master class in comedy - so I just try to pay close attention and soak up as much knowledge as I can. Clueless Gamer has been a smash hit for Team Coco, and it's a franchise we love doing, so I'm confident that there are many more on the way. NERDS UNITE!
Jenn McKee is the entertainment digital journalist for AnnArbor.com. Reach her at jennmckee@annarbor.com or 734-623-2546, and follow her on Twitter @jennmckee.