Posted on
Thu, Dec 9, 2010 : 5:25 a.m.
Conor O'Neill's: a pub worth visiting for the food alone
By Julie Halpert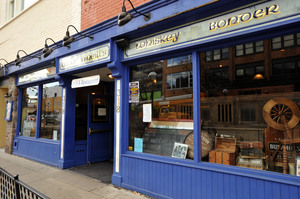 Conor O'Neill's is one of those places that makes dining out a far more pleasant experience, since it offers a wide variety of meals to satisfy my sometimes persnickety family. On previous visits, I stayed away from the Irish favorites, instead preferring the lighter main course salads and appetizers. But on a recent visit I sampled some of the native food.
Conor O'Neill's, which has been around since 1998, is a happy place. Part of the reason could be the libations. Many customers come here to partake in the 19 varieties of draft beers. The ambience, with its rustic wood floors and tables and walls filled with memorabilia, like antique corkscrews, is warm and welcoming and has the feel of the type of authentic pub you would encounter in England or Ireland.
But there is so much more than drinks here. The restaurant offers everything from appetizers to soups, salads, more than a dozen sandwiches and "Irish Fayre," all priced reasonably and delivered in large portions. There's also an extensive kids menu.
Even though I planned to order a heavy Irish dish, I was not going to forgo the appetizers, always a favorite. I really liked the honey mustard sauce that came with the rather ordinary chicken tenders. The Dublin brie was a standout, served warm and slightly melted and deep fried in beer batter. The peach chutney sauce was a refreshingly sweet accompaniment.
Many of the dishes are heavy. You rarely leave here without feeling very full. Even the more healthful items are rich, like the Caesar salad, which was heavily adorned with a delicious dressing, and the Chicken Florentine soup with spinach, in a broth so thick and creamy it was more like a stew. Aside from some processed-tasting chicken pieces, this was wonderful.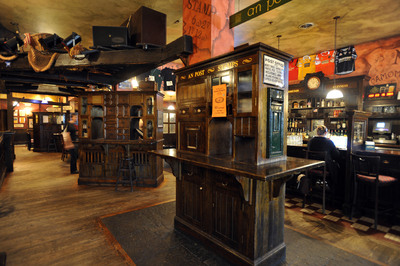 Then it was on to the even heartier entrees. The half pound hamburger was ample and well seasoned on a fresh sesame bun.
The best part of our meal were the Irish entrees. Kate's Shepherd's pie was gigantic, a heavenly combination of lamb and beef in an Ale Gravy, with vegetables, and topped with mashed potatoes. This, while not for the calorie conscious, was the ideal sort of comfort food to indulge in on a blustery night. I also enjoyed the Irish Boxty, a potato pancake. This had a more healthful taste then the more greasy potato pancakes I'm used to, stuffed with vegetables and served with pesto mayo. It was a fantastic melding of flavorings.
RESTAURANT REVIEW
Conor O'Neill's
318 S. Main St.
734-665-2968
Conor O'Neill's in AnnArbor.com restaurant guide
Hours: 11:30 a.m.-2 a.m. every day.
Plastic: Visa, Mastercard, American Express, Discover, Diners Club.
Liquor: Full bar.
Prices: Inexpensive. Sandwiches are in the $7 range, while the Irish entrees are in the $10 range.
Value: Excellent. Portions are huge.
Noise level: Loud.
Wheelchair access: Yes.
The only shortcoming we encountered was the Salmon filet. The oatmeal crust didn't work well, and the fish didn't taste fresh, though I thought the side of mashed potatoes was great.
Though we were bursting at the seams, I had to sample dessert. I nixed my daughter's persistent request for the chocolate chip cookie supreme, an all-time dessert highlight here, so I could try other sweet treats. The server said the bread pudding won Taste of Ann Arbor, and I can see why. The giant piece had cinnamon and nutmeg seasonings that made it closely resemble apple pie. And it was topped off with a caramel sauce and whipped cream. Need I say more? The black tie cake had a crust the texture of sand and didn't measure up.
We had a delightful server who routinely checked in on us and delivered our food in a reasonable amount of time. Conor O'Neill's continues to deliver in providing a perfect watering hole, as well as a great place for family dining.
Julie Halpert reviews restaurants for AnnArbor.com.