Posted on
Mon, Aug 20, 2012 : 5:35 a.m.
Country star Collin Raye headlines concert marking 15th anniversary of Ann Arbor-based WDEO Catholic broadcasting service
By Roger LeLievre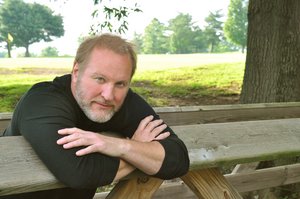 Country and Christian music singer
Collin Raye
and his band will help Ann Arbor-based radio station WDEO celebrate the national Catholic broadcasting service's 15 years on the air with a concert in Hill Auditorium on Saturday night.
The show, presented by Ann Arbor-based Ave Maria Radio, will also mark WDEO president/CEO Al Kresta's 25th anniversary as a religious broadcaster. A former Evangelical pastor, he is host of "Kresta in the Afternoon," produced here and syndicated globally.
"Twenty-five years in radio is really amazing," said Tom Loewe, development director of Ave Maria Communications, "and 15 years for us is very exciting.
"When we first started, there were a number of daytime-only or nighttime-only stations, or stations devoting only just a few hours a week to doing Catholic radio," Loewe said. "There are now, I believe, over 250 Catholic radio stations in the country. It's a huge growth industry."
WDEO, at 990 on the AM dial and with studios at Domino's Farms in Ann Arbor, was the first full-time Catholic radio station in the country, said Loewe. Its programming is now available in more than 200 markets, thanks to EWTN, a global Catholic news network. The station's transmitter is in Ypsilanti and the over-air signal reaches well into the Detroit market, north into the Thumb area, south to nearly Toledo and east to Chelsea.
PREVIEW
Collin Raye
Who: Country superstar / Christian musician. With Nashville-based singer-songwriter Andrea Thomas.
What: Concert marks 15 years of operation by Ann Arbor-based Ave Maria Radio, a now-national Catholic broadcasting service, as well as religious broadcaster Al Kresta's 25th anniversary on the air.
Where: Hill Auditorium, 825 N. University Ave.
When: 7:30 p.m. Saturday, Aug. 25.
How much: $18-$46. Tickets can be ordered online at www.Ave15.com.
Unusual in Christian radio is that WDEO is a mostly talk, rather than music, format.
"In the past 15 years, we've become the largest producer of radio content radio in the United States. We do over 50 hours of original content every single week, all from our studios," said Loewe.
Those tuning in aren't just from southeast Michigan, he added. "Our listener base is very loyal and growing year by year. As development director, I can say that the numbers of donors coming from outside of our signal area is increasing on a percentage basis year by year. In the past five years, we've gone from 1-2 percent to close to 10 percent of people calling in to make donations that are not even in our signal area. That tells you we're reaching some new markets."
Loewe said he's thrilled that Raye will be in town to celebrate the station's anniversary.
"He's an artist with a very sensitive social conscience," Loewe said. "Most of his songs are about social issues. Unlike a lot of country artists, he's been very, very focused on that for most of his career. … And he's a very sweet and genuine guy."
Raye has had 14 Top 10 hit singles, four of which were Number One on the country charts. He has also reached the Billboard Hot 100 four times. A convert to Catholicism, Raye is active in numerous church-related causes, and currently serves as spokesman for the Terri Schiavo Foundation.
His first big chart success was the 1991 ballad "Love, Me," with lyrics that have since become popular at funerals and memorial services, but that isn't his only song with a message. "Little Rock" was an anthem for the recovery community. "Not That Different" pleaded for tolerance. "In This Life" became a wedding favorite. He won awards for the child-advocacy video "I Think About You," and he wrote "She's With Me" about his special-needs granddaughter. His most recent album, "Never Going Back," came out in 2009.
He recently released a new single on iTunes titled "Never Gonna Stand For This." A video snippet, credited to the Nashville Tea Party, on Raye's Web page, shows images of President Barack Obama and Vice President Joe Biden as Raye sings "Greedy politicians who just won't listen got their hands where they don't belong."
His appearance at Hill Auditorium will feature a full band, and he will be joined on stage by Nashville singer-songwriter Andrea Thomas, also a devout Catholic.
Although Ann Arbor tends toward the liberal side of the spectrum, Loewe said he's not worried about selling enough tickets to fill Hill Auditorium.
"We reach a very specific Christian/Catholic market—they'll come out to see him. And there's a country market too, and they'll come out. And they are essentially conservative Christian people for the most part. (But) I would not hesitate to encourage even people who have no faith to come out and see him, because they are going to get a good show," Loewe said.