Posted on
Wed, Nov 9, 2011 : 6:01 a.m.
'Death by the Dozen' by Jenn McKinlay sweetest treat yet in this cupcake bakery series
By Lisa Allmendinger
Death by the Dozen
A Cupcake Bakery Mystery
By Jenn McKinlay
Paperback, 294 pages, $6.99
Three weeks before the Scottsdale Food Festival and a big baking competition, Melanie Cooper and Angie DeLaura are beginning their day at 4:30 a.m., and using mystery ingredients to prep for the event that could put their bakery on the map and possibly win them $10,000.
But when Mel's culinary mentor and contest judge Vic Mazzotta is murdered during the bake-off, Melanie finds herself tracking the killer. Plus, her childhood friend and partner-in-baking falls victim to a life-threatening poison and winds up in the hospital during the competition.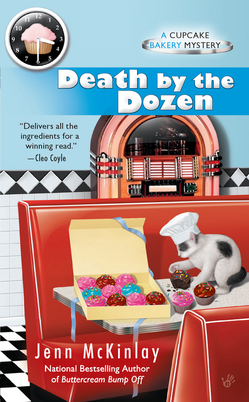 "There was a reason that Melanie was a cupcake baker and not a bookkeeper. She did much better with her pantry organization than her file cabinet." Her sleuthing skills are right on target, however.
And look out when it comes to baking wars; the two long-time friends are out to toast the competition... and use as many movie lines as are apropos during the course of their conversations. These two main characters, their boyfriends, close friends and family as well as a number of supporting cast members are just fun, fun, fun.
It's no secret I'm a huge fan of food cozies, and there are a lot of them to choose from, but I love this series. The characters are delightful; the kind of folks you'd want living next door. The story moves along beautifully, and it's easy to get caught up in the moment.
"She and Angie locked stares. They'd been doing this grade school. Whoever blinked first lost, not only the staring contest, but also the argument."
Besides, who couldn't love a bakery that served Moonlight Madness cupcakes — chocolate with buttercream rolled in shredded coconut and topped with an unwrapped Hershey kiss?
Or, a Caramel Crunch Cupcake. A buttery cupcake frosted with vanilla buttercream drizzled with melted caramel and sprinkled with candied pecans.
The third book in this cupcake bakery series (following 'Sprinkle with Murder' and 'Buttercream Bump Off') is the best one yet, and with the holidays coming, put these titles on your gift list for a cozy loving friend … with a sweet tooth.
Can't wait for the next title in this series.
Like a great fairytale, McKinlay transports readers into the world of cupcakes and all things sweet and frosted, minus the calories. Although… there are some pretty yummy recipes at the end.
Lisa Allmendinger is a regional reporter for AnnArbor.com. She can be reached at lisaallmendinger@annarbor.com. In addition, each Wednesday she reviews a cozy mystery in her column called "Cozy Corner."