Posted on
Wed, Dec 14, 2011 : 5 a.m.
'Endangered' by Pamela Beason a terrific start to a new series about a wildlife biologist
By Lisa Allmendinger
Endangered
A Summer Westin Mystery
By Pamela Beason
Paperback, 304 pages, $7.99
If you are a fan of beautiful wildlife descriptions, a spunky main character and a great plot, grab a copy of "Endangered" by Pamela Beason that looks at the lives of park rangers and cougars in Utah.
In this new series, meet Summer "Sam" Westin, a wildlife biologist with uncanny survival skills and a love of cougars. She's on assignment for a wildlife organization, doing a series of stories about the cougar population when a little boy is abducted — and she was the last one to see him.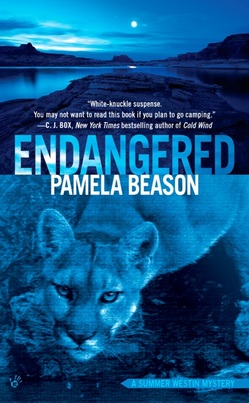 "Summer Alicia Westin was a paradoxical combination of wilderness savvy and the edginess that he'd noticed in people with high-stress, high-tech jobs: like they had too many wires feeding too few circuits."
Sam's no stranger to this National Wildlife Service site, its canyons, mountains and critters. The descriptions of this land are so amazing, you'll want to check it out in person. As readers know, I do love a book that teaches me something, and, in this case, it's about all kinds of wildlife, with some social commentary added for good measure.

"Cougars care about three things: territory, prep and self-preservation. Usually, all you need to do is stand tall and slowly back away. They don't kill for revenge or for pleasure. Until people."
Sam is the kind of outdoor adventurer you love to root for and her budding relationship with FBI special agent Chase Perez is both realistic and tension-filled. As the clues to who done it pile up and time runs out on a planned hunt to take out Sam's beloved cougars, the pace quickens, the danger escalates and the suspense mounts.
"Solitude and wilderness had always represented security, even serenity to her. But that was before she'd learned that a kidnapper, maybe even a murderer, was skulking around the plateau.
"She blended so naturally into the surroundings of rock and cactus and pines, clearly at home with the cougars and deer and eagles. Her petite size and silver-blonde hair made her appear delicate, but that woman was made of cast iron."
Sam refuses to believe that one of her beloved wild cats is preying on little kids. It's just not in their nature, at least under these circumstances.
"Unbelievable how people worried about wild animals lurking in the bushes when their neighbors two doors down kept loaded semiautomatics under their beds."

Well written and terrifically paced, "Endangered" is a great read set in beautiful country with characters readers will find fascinating. Take the adventure and enjoy the ride vicariously, it will warm your senses as you snuggle into your favorite reading space with a cup of hot chocolate.
Next up in this new series, "Bear Bait," and I, for one, can't wait to read it.
Lisa Allmendinger is a regional reporter for AnnArbor.com. She can be reached at lisaallmendinger@annarbor.com. In addition, each Wednesday she reviews a cozy mystery in her column called "Cozy Corner."