Posted on
Wed, Oct 26, 2011 : 5 a.m.
Feathers fly in 'Liver Let Die,' by Liz Lipperman a new 'Clueless Cook Mystery' series
By Lisa Allmendinger
Liver Let Die
A Clueless Cook Mystery, first in the series
By Liz Lipperman
Paperback, 278 pages, $7.99
I'm a sucker for food cozies. Always have been. And "Liver Let Die," a new "Clueless Cook Mystery" by new author Liz Lipperman, reminded me why food and murder compliment each other so delightfully.
Meet Jordan McAllister, "Big city college graduate with dreams of becoming a sports columnist for a famous city newspaper, wasting away in a small-time newsroom writing personal ads for desperate people looking to hook up. Even more pathetic was that the one she'd been working on before the phone rang was her own."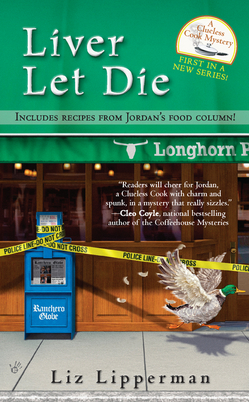 Jordan, unlike many cozy characters, doesn't own a dog or a cat or bird or a hamster. She has a goldfish named Maggie, which winds up playing an important role in this page-turner.
Set in a small town just outside Dallas, you know somehow football and longhorns will be involved, so you won't be disappointed.
Jordan's boss reminds her of Mr. Potato Head, minus the top hat, but he gives her a shot at writing something aside from personals when the small-town paper's food critic is injured. For Jordan, it's her first real newspaper column, and she plans to make the most of it. Even if she's not being paid more for the byline.
Her first assignment is to review a steak house. Did I mention she "hadn't eaten a steak since her father forced her to try a rare one when she was a teenager?"
Plus, she doesn't know a whole lot about food; nor does she have any wonderful family recipes for the column. But what looks like a recipe for disaster turns out to be a terrific opportunity — even if Jordan's go-to meals are fried bologna and toasted Pop-Tarts.
So when her waiter for the evening is found dead with a knife in his back outside her apartment complex and Jordan's phone number is found in his pocket, she must figure out who placed her server on the murder menu.
And Jordan's got some help from a wonderful group of neighbors who get together once a week and provide a terrific supporting cast for the clueless but charming main character.
From rattlesnake pasta to chocolate decadence cake, "Liver Let Die," will keep you guessing, laughing and reading. It combines fun, romance, red herrings, sports and stolen diamonds — a recipe for a successful new series.
Plus, there are a number of yummy sounding recipes at the end. A great story with tasty recipes at the end — does it get any better than that?
"Liver Let Die" is as tasty as a perfectly grilled filet mignon — with bernaise sauce.
Lisa Allmendinger is a regional reporter for AnnArbor.com. She can be reached at lisaallmendinger@annarbor.com. In addition, each Wednesday she reviews a cozy mystery in her column called "Cozy Corner."