Posted on
Wed, Oct 19, 2011 : 5 a.m.
'Harrowing Hats' by Joyce and Jim Lavene a terrific romp through Renaissance times
By Lisa Allmendinger
Harrowing Hats
A Renaissance Faire Mystery
By Joyce and Jim Lavene
Paperback, 298 pages, $7.99
'Harrowing Hats' will transport you to a different world, to a village where lords and ladies, knights and madmen, and all things 16th century Renaissance, take center stage.
Renaissance Village, in Myrtle Beach, N.C., is home to all sorts of characters, who take their make-believe world rather seriously. It a place to step back in time and where "nothing gets the crowd going like a good joust."
"They knew not to bring guns into the village," but knives, daggers, swords, bow and arrow, and lances were just fine.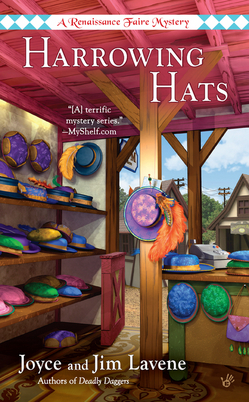 There's Robin Hood's Merry Men and the Sheriff of Nottingham, kitchen wenches, knaves and varlets, pirates and mermaids — all who live inside this village and entertain crowds year-round.
You'll meet, adore and root for Lady Jessie Morton, a very fun and likeable assistant professor during the year; a seasonal Adventureland employee during the summer. And then there's her hunky Village Bailiff Chase Manhattan. The two are a delightful couple.
"Sometimes it's hard to remember that there's a world outside the village," Lady Jessie says. "While I'm here — this is all that matters. I've always known I could get lost in make-believe. That's why I never decided to stay here full-time. I love this world of fairies, pirates, and nobility — I'm just afraid to let it become my whole life."
This summer she's taken a job working for Andre Hariot, the village hat maker (and former Hollywood hat maker to the stars), who is suspected of murdering one of the three chocolatiers. And sticking a hat pin in his eye.
"Most of the residents in the village had something to hide. Maybe it was part of why they were living here in this make-believe world. Secrets were layered on secrets in the shops and the apartments that lined the cobblestones."
As Jessie and her handsome boyfriend seek the real killer, there's romance and intrigue, fun and frolic — all the good stuff that makes for a great read. I loved this book and put it in my Top 10 favorites of the year.
"Once the visitors went home and the village closed down for the day, it was like a big weird neighborhood filled with storybook creatures — and actors with big egos." And readers get a bird'seye view.
This theme park and its inhabitants are the best kind of wonderful make-believe. And the authors of this series make it so easy to buy into this world, the story and the characters. It's fun, fun, fun.
"Renaissance Village represented the best and most romantic ideals of that time. Let's face it, not many visitors would come here if it was dirty, plague-ridden, and full of church doctrine like the real thing had been. There was no way to be historically accurate and make money."
This title took me on a delightful, fast-paced, fanciful romp. I finished it in two sittings, and that doesn't happen very often.
If, somehow, you've missed picking up one of the three previous Renaissance Faire mysteries by Joyce and Jim Lavene, run, don't walk, to your favorite mystery book store and grab one. Or two.
In fact, with the holidays fast approaching, grab all four titles in this series and wrap them up with a big red bow and give them to a cozy mystery-loving friend. The books will be one of their favorite presents of the season.
Lisa Allmendinger is a regional reporter for AnnArbor.com. She can be reached at lisaallmendinger@annarbor.com. In addition, each Wednesday she reviews a cozy mystery in her column called "Cozy Corner."