Posted on
Wed, Nov 2, 2011 : 5:01 a.m.
'Shoe Done It,' by Grace Carroll, a fashion statement written with flair
By Lisa Allmendinger
Shoe Done It
An Accessories Mystery
By Grace Carroll
Paperback, 277 pages, $6.99
If you like designer labels, being fashion forward and society mavens who lead the couture pack in California, you'll adore this book.
Even if you don't know a Dior from a Halston, you'll appreciate the fast-paced fashion fun in "Shoe Done It," by Grace Carroll, in this first installment in "An Accessories Mystery."
I admit to being a charter member of the Clueless about Couture Club, but this book grabbed me from the start, entertained me in the middle, and ended with useful fall clothing tips —information that anyone can afford to follow.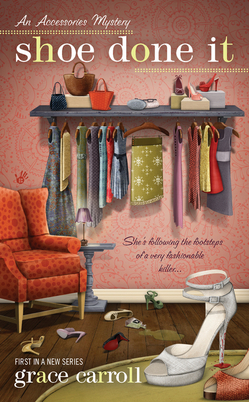 The book opens with Rita Jewel in South Miami Beach, clutching a pair of one-of-a-kind, handmade silver stilettos, which she'd been sent to fetch for a customer of Dolce's Boutique located just outside San Francisco.
"Dolce following a code of ethics when it came to her customers that rivaled anything the AMA required. She expected me to do the same. No one was supposed to know what any customer bought, wore or how much they paid for it."
And Rita, a former Ohioan, who admits to loving vampire novels, now makes a living selling upscale shoes, clothes and accessories to socialites.
"I'm telling you, if the fashion police had been on duty that woman would be behind bars," she says.
But when social maven MarySue Jensen is found murdered and barefoot with the very expensive silver shoes missing, it sets Rita on a quest to find the thief and a killer.
As if she doesn't have enough on her plate, she's also juggling three men, one of whom is a cop, a snazzy dresser and a former dotcom entrepreneur who now "helps people" rather than, as he puts it, selling people things they don't really need.
"I owed it to myself, to MarySue to Dolce and to my adopted city to find out who murdered MarySue and took her silver shoes."
But if it weren't for those shoes, she wouldn't have met her three suitors… and perhaps have chosen Jack Wall, the sexy, well-dressed detective, and I wouldn't be looking forward to the next installment "Died With A Bow."
If the first book in this series is any indication of what's to come, this series will never go out of style.
Lisa Allmendinger is a regional reporter for AnnArbor.com. She can be reached at lisaallmendinger@annarbor.com. In addition, each Wednesday she reviews a cozy mystery in her column called "Cozy Corner."